Emboldened after my recent Muskie success I decided to push my luck and invade the musky heartland, the far northwoods of Wisconsin. I made 2 trips that year and although during both I had contacts with the dreaded "M"fish, their size fell well short of the magical 50" mark. Luckily other species were more cooperative.
During the first excursion if June, I started off fishing one of the small, secluded lakes that has decent population of pike. My take was to first score with something so I would not be too stressed out when muskies would not cooperate, because that is usually what they do. Since this lake has both fishing resort, private residences and public access on its shores, it also receives substantial fishing pressure. Therefore I decided to go finesse and try to trick them with some fancy plastic presentations. After 2 hours and zero bites I was devastated. Neither classic Texas rigging, weightless or whacky style was working. Frustrated I decided to screw all this finesse stuff and and snapped on old classic, Nr 5 Mepps Musky Killer in firetiger pattern. Suddenly the dead water came to life. I was rewarded with nice strike from a spot that I had "finessed" for almost half an hour. Not only that, at one point I had 2 northerns attacking my spinner at the same time. After about 7 fish out of which the biggest one was probably shy of 30″ , the storm came in and I had to call it quits.
Next day I decided to try fishing the Flambeau River. The day was a classical post frontal condition, sunny skies and bright sun so I was not expecting too much. I waded a bit and fished around the canoe launch area. Aside from few dinky bass and few missed strikes nothing happened. Then after lunch I decided to explore the hydroelectric dams on the Flambeau. On the first two nothing happened. Then finally I got some action on the third one. Right at dusk when it was getting dark, at that "magic" hour I was methodically working my Rapala subwalk glide bait. Suddenly after 20'th or something cast to the same spot I got a nice hit, followed by massive swirl and a flash of green and red fins under. Finally a nice ski. Right at the same moment my cell phone went off and while I was fighting fish I instinctively reached for my phone. For that one second I lost focus and the tension on the line. After one nice swirl the fish simply spat the lure back at me. Of course phone call proved to be nothing important, and from a friend of mine, you know the one that calls you once or twice per year and he figured that right now would be good time for this rare event.
After settling down and praising my buddy for his impeccable timing, I grabbed my rod again and decided to utilize last few minutes of light. I casted right to the same spot as before and wham! Another hit! For a second it felt like I have minimum 20 pounder on, only to be met with a sigh of disappointment when the fish jumped out and it turned out to be just a nice smallie. The fish was a little shy of 17″ however the way he hit my lure and how he felt for a first few seconds only gives kudos to the incredible strength of this fish.
Next day on my way back home to Chicago I stopped at one of the dams on the Tomahawk river. I start heavy and of course on the first cast I have a follow from a mid size musky. For the next hour I worked this spot methodically with a variety of presentations with no effect. So I put away muskie gear and decided to switch things up a bit. I grabbed my trout/steelhead rod and with a Salmo Hornet and started exploring the heavy current areas around the rocks. Then suddenly I get a snag that suddenly becomes alive. It turned out to be another mid size smallmouth that put up excellent fight on a light spinning rod.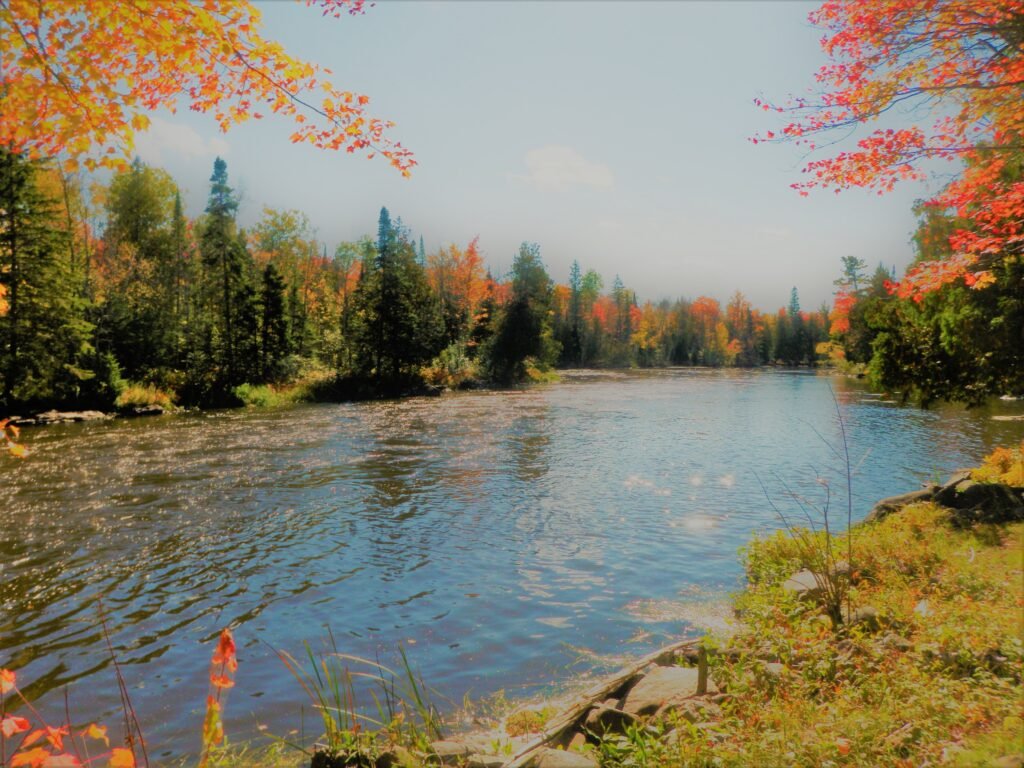 I came back to this area again in early September of that year. Temps were a little bit colder and water levels lower. Like before I started off first from the small lake when I scored well with northerns and one nice largemouth bass. Then I moved to the boat launch area on the Flambeau river. On the first spot I miss nice strike from a big smallmouth that turned away from a muskie lure at the last minute. Then I decided fish the deep swirl right below the boat launch. After like 8th cast I stopped for a second to look around. When I looked down at my feet to look at my lure I noticed just the glimpse of it how it was disappearing in the toothy jaws. The fish came out of nowhere and nailed my Rapala glidin' rap just below my feet. The fish was skinny and only 31″ but hey, musky is still a musky.